HEAP/USF Application Season Opening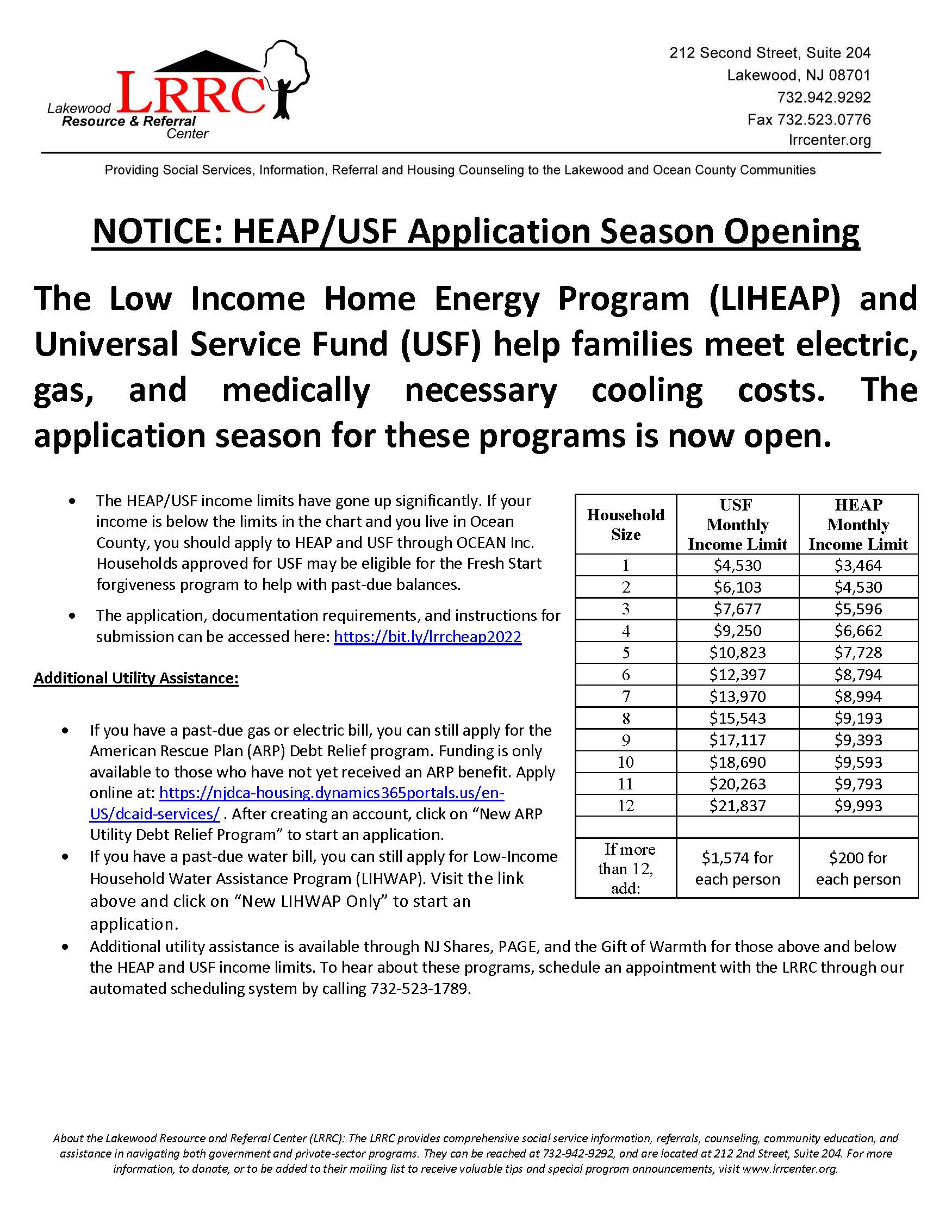 NOTICE: HEAP/USF Application Season Opening
The Low Income Home Energy Program (LIHEAP) and Universal Service Fund (USF) help families meet electric, gas, and medically necessary cooling costs. The application season for these programs is now open.
• The HEAP/USF income limits have gone up significantly. If your income is below the limits in the chart and you live in Ocean County, you should apply to HEAP and USF through OCEAN Inc. Households approved for USF may be eligible for the Fresh Start forgiveness program to help with past-due balances.
• The application, documentation requirements, and instructions for submission can be accessed here: https://bit.ly/lrrcheap2022
Additional Utility Assistance:
• If you have a past-due gas or electric bill, you can still apply for the American Rescue Plan (ARP) Debt Relief program. Funding is only available to those who have not yet received an ARP benefit. Apply online at: https://njdca-housing.dynamics365portals.us/en-US/dcaid-services/ . After creating an account, click on "New ARP Utility Debt Relief Program" to start an application.
• If you have a past-due water bill, you can still apply for Low-Income Household Water Assistance Program (LIHWAP). Visit the link above and click on "New LIHWAP Only" to start an application.
• Additional utility assistance is available through NJ Shares, PAGE, and the Gift of Warmth for those above and below the HEAP and USF income limits. To hear about these programs, schedule an appointment with the LRRC through our automated scheduling system by calling 732-523-1789.
About the Lakewood Resource and Referral Center (LRRC): The LRRC provides comprehensive social service information, referrals, counseling, community education, and assistance in navigating both government and private-sector programs. They can be reached at 732-942-9292, and are located at 212 2nd Street, Suite 204. For more information, to donate, or to be added to their mailing list to receive valuable tips and special program announcements, visit www.lrrcenter.org.
Back to previous page