Coronavirus 19 preparedness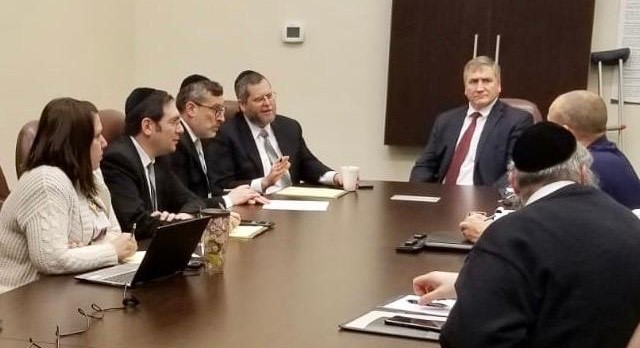 A Coronavirus (COVID-19) preparedness meeting took place on Tuesday, March 3rd in CHEMED Health Center lead by CHEMED and the Ocean County Health Department. Attendees included several officials from CHEMED, the Ocean County Health Department, Office of Emergency Management (OEM), representatives from Beth Medrash Govoha and the Board of Education, to discuss what the action plan would be if there were reported cases of Coronavirus in Lakewood and the surrounding area.

At the present time there is a greater risk of contracting type A or type B flu, which have been prevalent all winter, than of contracting COVID-19. There have been no documented cases in our community as of this communication

Should COVID-19 become a concern in our area, the majority of cases would appear as a mild respiratory illness. The elderly and anyone who is immuno-compromised are most at risk of complications.

The best defense against COVID-19 is to follow the same guidelines offered for preventing the spread of flu.
- Wash your hands often with soap and water for at least 20 seconds, especially after going to the bathroom; before eating; and after blowing your nose, coughing, or sneezing. If soap and water are not readily available, use a hand sanitizer that contains at least 60% alcohol.
- Avoid close contact with people who are sick.
- Stay home when you are sick, except to get medical care, unless you had exposure to COVID-19 or became sick following travel. In that case call your medical provider before visiting the office, as they may want to place a mask on you before you enter the building to protect other people.
- Masks are only recommended to be used by an infected patient who may come into contact with other people.
- Try to avoid touching your eyes, nose and mouth.
- Cover your coughs and sneezes with a tissue.
- Clean frequently touched surfaces and objects daily (e.g., tables, countertops, light switches, doorknobs, and cabinet handles) using a regular household detergent and water.
- Choose a room in your home that can be used to separate sick household members from those who are healthy. Identify a separate bathroom for the sick person to use, if possible. Plan to clean these rooms, as needed, when someone is sick.
For questions, either contact your healthcare provider or call the NJ Department of Health Hotline at 800 222 1222.

During the H1N1 and Measles outbreaks CHEMED provided mass vaccination, education and community-wide triaging of patients with suspected disease, helping to minimize the spread of these diseases.

CHEMED will continue to work with partner organizations and physician practices to coordinate a local response as necessary.

Back to previous page