What is TytoCare?
TytoCare is a revolutionary at-home device that connects you to a live diagnosis through cutting-edge, user-friendly technology.

Designed for patients of all ages, TytoCare provides an off-site clinical experience more advanced than telehealth. Each interaction includes a high-quality exam interfaced live with a doctor, diagnosis and follow up care including prescriptions if needed.

Whether your baby woke up from her nap crying and pulling on her ear, your elderly parents can't get out of their house, the streets are covered in snow or you're on the road travelling, TytoCare brings the care to you.
How does it work?
TytoCare users receive a simple handheld device, with attachments, to keep at home. TytoCare provides clear, simple guided instructions to connect you to an on-call provider and use the device to: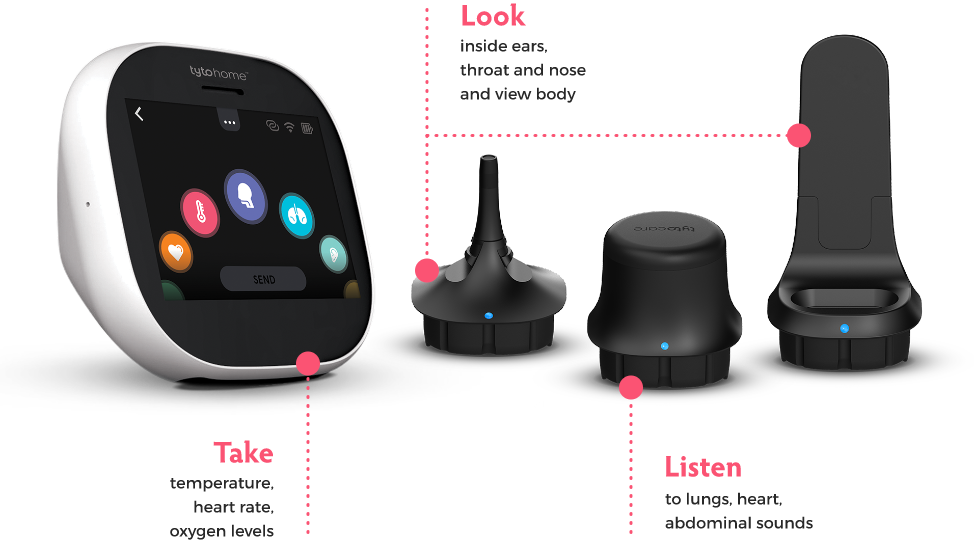 These diagnostics are sent in real time to a live doctor for immediate diagnosis. All images are kept on file for quick and easy access.
Diagnose from the comfort and safety of your home:

asthma

allergies

bronchitis

bug bites

cold and flu

common skin conditions

constipation

ear infections

fever

nausea

pink eye

sore throats

upper respiratory infections
What people are saying about TytoCare

My son woke up in the morning with pink eye. Instead of having to miss school, I used the TytoCare device and got medication delivered to me right away.
Chani P.
My twins keep me super busy, so when one of them was pulling on her ear, my heart dropped. How was I going to have the time to take her to the doctor? Lucky for me, one of my neighbors had a TytoCare device which I used to take a picture of my baby's inner ear and get the ear infection diagnosed. Thanks to CHEMED and TytoCare, I now have the antibiotics in hand for my baby, without ever having stepped foot out of my house!
A Lakewood Mom
I was going on vacation for 2 weeks with my family and worried about the lack of doctors in the area where I was vacationing. I heard about the TytoCare device from CHEMED and decided to take it along. It gave me such peace of mind to know that my kids and I were in good hands in the event that someone got sick.
S. B.